Colors and Logos changes

All standard designs on our website can be customized to your taste... Any logos & colors shown on the original design can be changed. This section only applies to the customization of our standard designs, which you can find here. With some logos we have to accept restriction of trademark compliance, which also can effect the base colors of your selected design.
For this stage of design customization we will charge you standard graphics kit price + approx. 20 - 30 EUR
Please fill "ORDER FORM" below and you will receive an email with the final price and all important information. Before start we have to request a deposit payment which is, in this case, 30 EUR. After we receive deposit payment, we can start to prepare a draft. This process can take 24 – 48 hours. You will receive draft with all changes as requested. Then you pay remaining balance and we will produce the customized graphics kit. Production process can take up to 48 hours.
Here you can see different graphics finishes we can offer.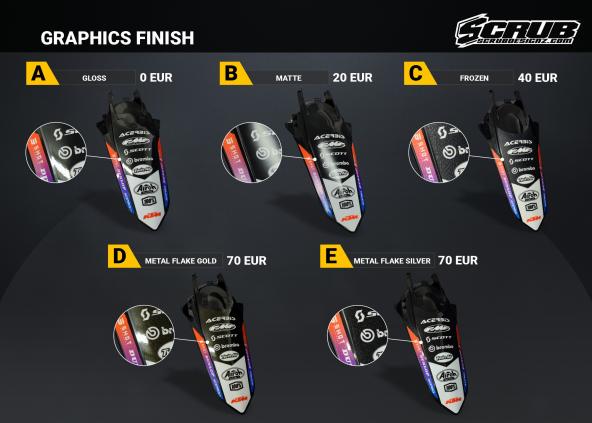 Feel free browse the gallery to check out draft examples.