Fititting Instructions Husqvarna 701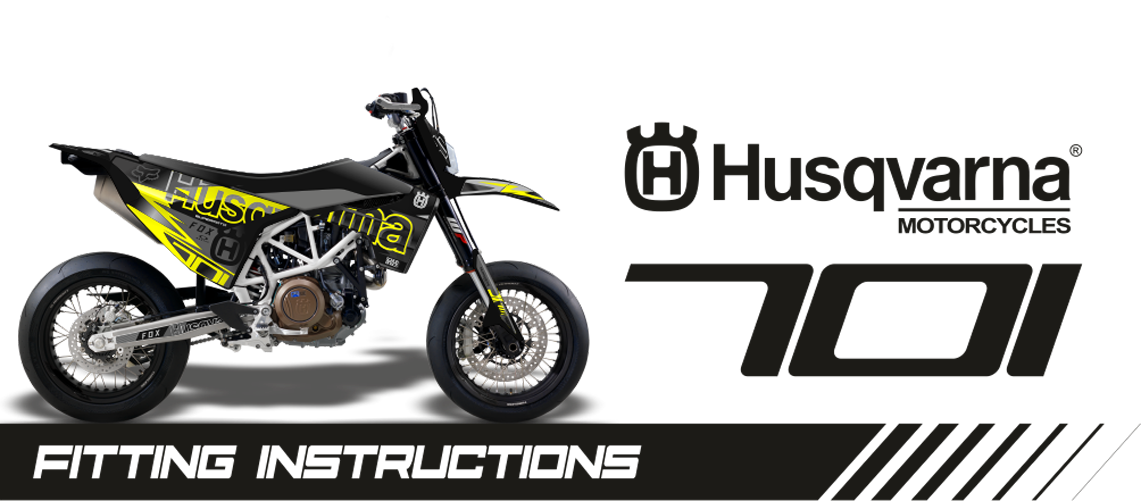 If you purchased graphics kit for your Husqvarna 701 you can see, that most of the graphics are easy to apply. But applying graphics on side panels could be sometimes tricky because it has big curves on big panels for big stickers. Therefore we prepared this step by step manual to help you with the fitting. If you read all instructions carefully it will help you to better understand how to use this procedure to apply any other graphics.
1. PEEL OFF BACK PAPER

Peel off the back paper from the top part of the sticker,
approximately 5 centimeters, and then fold it over.

2. SET THE POSITION

Apply the sticker in the corners at the front and at the back
of the side panel.

3. STICK THE GRAPHIC

Slowly apply the sticker all across the top so that it is stuck all
the way from front to back.

4. PEEL OFF BACK PAPER

Peel off the back paper. Approximately 15 centimeters and
fold it over.

5. PRESS THE STICKER

Apply pressure to the sticker using your finger, focusing on
the curved area as you move from the top to the bottom,
ending at the cut section.

6. HEAT UP THE STICKER

Use the hair dryer to heat the sticker on the front part of the
side plate

7. PRESS THE STICKER

Apply pressure to the sticker with your finger, making sure
to press down along each line and all the way to the edge
of the plastic. Utilize a hair dryer frequently to warm up the
stickers.

8. PEEL OFF BACK PAPER

Remove the backing paper in stages depending on
where you are up to with the sticker application.

9. FOLD OVER THE EDGE

Gradually fold the sticker along the edge and apply gentle
pressure with your finger, ensuring it is applied evenly and
smoothly in an outward direction.

10. HEAT UP THE STICKER

Apply heat to the adhesive at the base of the sticker using
a hair dryer.

11. PRESS THE STICKER

Apply pressure with your fingers to the sticker until it
reaches the end of the side panels. Eliminate any air
bubbles by using a hair dryer and evenly pressing them out.

12. LET THE ADHESIVE BOND

To ensure optimal adhesion, allow the plastic to sit at room
temperature for a full 24-hour period. The following day,
carefully inspect the edges and gently apply pressure to
any areas where the sticker may have become detached.
Video